Salzburg is looking forward to welcoming more than 7000 athletes
Salzbourg devrait accueillir plus de 7000 sportifs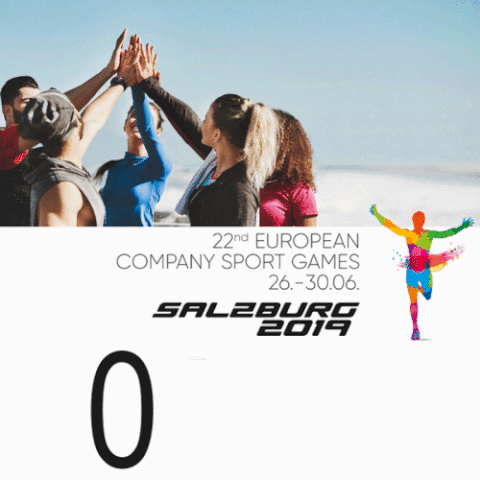 Seit vergangenen Freitag, dem Ende der Anmeldephase, ist es Gewissheit: Salzburg darf sich bei den Europäischen Betriebssportspielen Ende Juni 2019 auf mehr als 7000 Teilnehmer aus 22 Staaten Europas und damit auf ein wirklich großes Sportfest freuen.
Die Europäischen Betriebssportspiele werden in der Regel von zwei große Verbänden – jenen aus Deutschland und Frankreich – geprägt. Deutschland hat dabei meist die Nase vorne, was sich auch bei einem Blick auf die Anmeldezahlen für Salzburg bestätigt. Von den 7027 registrierten Teilnehmer stammen exakt 3437 aus der Bundesrepublik (48,9%). Auch Frankreich hat seine Liebe für Salzburg entdeckt: Mit 1573 Teilnehmern (22,4%) belegt man nicht nur Platz 2, seit den Spielen 2005 im eigenen Land (Clermont-Ferrand, 1762 Teilnehmer) haben sich nicht mehr so viele Franzosen für ein ECSG-Turnier gemeldet.
Rekordteilnehmerfeld aus Österreich
Beliebt sind die Spiele in Salzburg aber auch im eigenen Land: 863 Sportlerinnen und Sportler aus Österreich lassen sich die Gelegenheit nicht entgehen, um sich mit Gleichgesinnten aus ganz Europa zu messen. Das bedeutet in der Geschichte der Spiele, die bis in das Jahr 1977 zurückreicht, einen neuen österreichischen Teilnehmerrekord, und man belegt unter den Herkunftsländern Platz 3. Der Löwenanteil unter den heimischen Teilnehmern entfällt auf Salzburger Betriebssportler: 553 Teilnehmer aus 51 Betrieben wollen bei diesen Heimspielen unbedingt dabei sein.
Wirft man einen Blick auf die Sportarten, sticht eine Zahl besonders heraus: Klammert man die Fußballbewerbe aus, die traditionell die meisten Sportler bei den ECSG stellen (Salzburg: 1169), erlebt Golf im Betriebssport offensichtlich einen wahren Hype: 719 Spielerinnen und Spieler haben sich hier gemeldet, so viele wie noch nie bei den Europäischen Betriebssportspielen. Eine große Zugkraft üben auch Bowling und Leichtathletik (je 422 Starter) sowie Badminton (387), Volleyball (345) und Handball (338) aus.

This past Friday was the last day of registration, and now it's final: Salzburg can look forward to welcoming more than 7,000 athletes from 22 European countries to the European Company Sport Games at the end of June 2019 and to a truly great sport event.
Two large associations – those from Germany and France – generally leave the greatest imprint on the European Company Sport Games. Germany is usually ahead of France, and the registration figures for Salzburg again confirm this. Of the 7,027 registered participants, exactly 3,437 are from Germany (48.9%). France has also discovered its love of Salzburg: 1,573 French athletes (22.4%) means not only second place in terms of the number of participants, but also the largest number of French participants in an ECSG tournament since the Games were held in France in 2005 (Clermont-Ferrand, 1,762 participants).
Record number of Austrian participants
But the Salzburg Games are also popular among Austrians: 863 Austrian athletes are taking this opportunity to pit themselves against competitors from all over Europe. In the history of the Games, which date back to 1977, this means a new record number of Austrian participants, with Austria ranking third behind Germany and France. Most of the Austrian participants are from Salzburg: 553 participants from 51 companies are taking part in this year's Games.
When looking at the various disciplines, one thing stands out: Leaving aside the football tournaments, which traditionally make up the largest number of participants at the ECSG (1,169 in Salzburg), golf seems to be a growing trend in company sport: 719 players have registered for golf – more than ever before at the European Company Sport Games. Bowling and track and field (422 participants each), as well as badminton (387), volleyball (345) and handball (338) also hold great appeal.

Depuis vendredi dernier, la fin de la phase des inscriptions, une chose est sûre : Salzbourg accueillera pour les championnats européens des sports d'entreprise organisés en juin 2019 plus de 7 000 participants venant de 22 pays européens et se réjouit déjà à l'idée d'organiser ce grand événement sportif.
Les championnats européens des sports d'entreprise sont généralement promus par deux grandes associations - originaires d'Allemagne et de France. L'Allemagne est généralement en avance, ce que le nombre de participants inscrits pour la session de Salzbourg vient également confirmer. Sur les 7 027 participants inscrits, 3 437 viennent de la république fédérale (48,9 %). La France a aussi découvert son amour pour Salzbourg : Avec 1 573 participants (22,4 %), elle termine d'une place à la deuxième place, et d'autre part, depuis les jeux de 2005 organisés dans son pays (à Clermont-Ferrand, avec 1 762 participants), un nombre aussi important de Français n'avait jamais été enregistré à un tournoi ECSG.
Un nombre de participants record en provenance de l'Autriche
Les jeux organisés à Salzbourg sont aussi très prisés dans leur propre pays : 863 sportifs autrichiens ne manqueront pas l'opportunité de rivaliser avec des gens ayant les mêmes envies venant de toute l'Europe. Cela signifie dans l'histoire des jeux, qui remonte à 1977, un nouveau record de participation autrichien, classé troisième pays participant. La part du lion parmi les participants locaux est attribuée aux sportifs de Salzbourg : 553 participants de 51 entreprises souhaitent participer à ces jeux à domicile.
Si vous regardez les sports, un nombre se distingue : Si vous excluez les compétitions de football qui rassemblent traditionnellement la plupart des athlètes à l'ECSG (Salzbourg: 1169), le golf connaît évidemment un véritable engouement parmi les sports d'entreprise: 719 joueurs se sont inscrits ici, un nombre encore jamais enregistré à l'occasion des championnats européens de sports d'entreprise. Le bowling et l'athlétisme (422 partants chacun), ainsi que le badminton (387), le volleyball (345) et le handball (338) attirent également de nombreux sportifs.