Install our ECSG 2019 app to get all results!
Pour consulter les résultats, merci d'installer dès maintenant notre application « ECSG 2019 »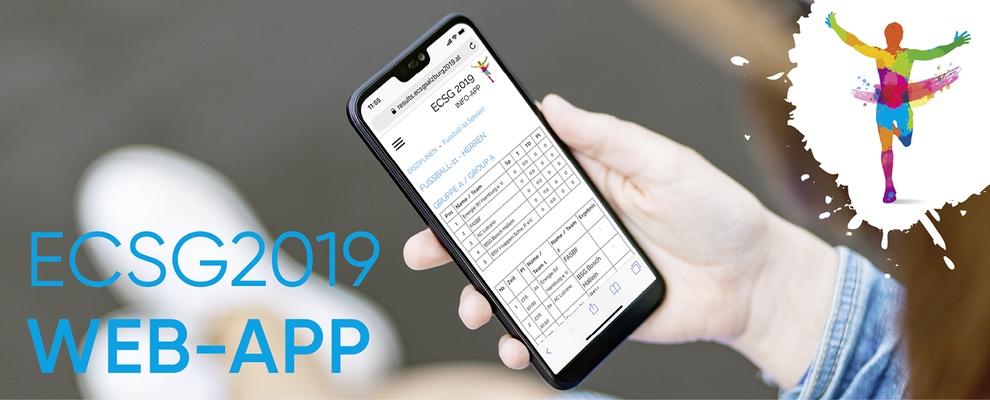 Alle haben darauf gewartet, nun ist es soweit: Die Startlisten und Spielpläne sind ab sofort verfügbar. Diese Webanwendung ist auch als App für Smartphones konzipiert. "Wir laden alle Teilnehmer ein, diese App am Smartphone zu installieren. Denn über diese Webanwendung läuft auch unser Ergebnisdienst, sodass alle Teilnehmer am Ende eines jeden Tages die Ergebnisse rasch und komfortabel ablesen können", sagt OK-Chef Klaus Höftberger. Die Web-App lässt sich hier aktivieren:
Web-App
Spielpläne und Ergebnisdienst:

Details zu Disziplinen und Sportstätten
Auf unserer Website finden die Teilnehmer ab sofort bei allen Disziplinen auch die detaillierten Wettkampfbestimmungen sowie weitere Informationen zu den Turnieren und Sportstätten (Adressen, Anbindung öffentlicher Verkehr etc.).
Ergebnisdienst auch im Eventzentrum
Neben der App für Smartphones sind die Ergebnisse der Sportwettbewerbe bei den Turnierleitungen auf den Sportstätten, über unsere Website sowie schließlich auch auf interaktiven Monitoren im Eventzentrum (Foyer Halle 10) abruf- bzw. einsehbar.

Everyone has been waiting for them and now they're here: the start lists and schedules. This web tool is also an app for smartphones. "We invite all our athletes to install the app on their smartphone. This web tool also includes our results service, which gives all participants quick and simple access to the results at the end of each day," says the head of the organising committee Klaus Höftberger. You can activate the web app here:
Web-App

Details on disciplines and sport venues
Participants can find the competition regulations for all disciplines as well as further details on the events and sport venues (addresses, public transport connections, etc.) on our website.
Results service at the Event Centre
Besides the smartphone app, participants can also get their results from the tournament directors at the sport venues and on our website. In addition, the results will be displayed on interactive screens in the Event Centre (Foyer Halle 10).

Nous les attendions tous et ces informations sont désormais disponibles : les listes de départ et les plannings sont consultables dès à présent. Cette fonction Web est aussi conçue comme application pour Smartphone. « Nous invitons tous les participants à installer cette application sur leur Smartphone. Comme cette application intègre également comme notre service de résultats, tous les participants peuvent s'y connecter tous les soirs pour consulter facilement et rapidement toutes les performances », explique le responsable OK, Klaus Höftberger. Cette application s'active ici :
Web-App
Service des horaires et des résultats :

Détails sur les disciplines et les complexes sportifs
Sur notre site Internet, les participants peuvent désormais trouver le règlement détaillé de la compétition pour toutes les disciplines, ainsi que des informations supplémentaires sur les tournois et les complexes sportifs (adresses, liaisons de transport en commun, etc.).
Service de résultats également disponible dans le centre d'événement
En plus de l'application pour smartphone, les résultats des compétitions sportives peuvent être consultés auprès des organisateurs du tournoi directement dans l'enceinte des installations sportives, sur notre site Internet ainsi que sur des écrans interactifs dans le centre d'événement (foyer hall 10).
---