A transport concept supported by the latest technology
Des technologies ultramodernes viennent en renfort du concept de transport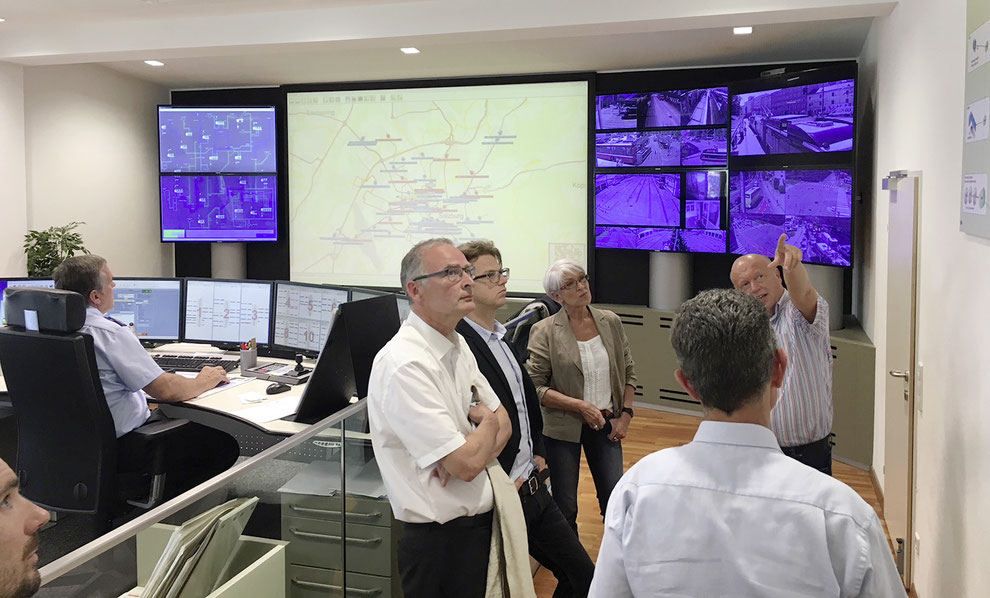 Unter Einbeziehung aller maßgeblichen Partner (Verkehrsbetriebe, Polizei, Stadt und Land Salzburg, Einsatzorganisationen) wird derzeit im ECSG-Team in Salzburg an einem umfangreichen Verkehrskonzept gearbeitet. Dies soll den reibungslosen Transport der ECSG Salzburg 2019-Teilnehmer zu den jeweiligen Sportstätten, den Unterkünften und zum Eventcenter Messezentrum sicherstellen.
In ihrer letzten Sitzung hatten die Mitglieder des Verkehrsausschusses die Gelegenheit, einen Einblick in die komplexe Welt des Salzburger öffentlichen Verkehrs zu bekommen. Ing. Markus Perberschlager (Betriebsleiter Obus der Salzburg AG) erklärte die verschiedenen technischen Möglichkeiten in der Leitstelle, die einen planmäßigen und möglichst störungsfreien Ablauf des öffentlichen Verkehrs in Salzburg gewährleisten. Mehr als 40 Millionen Passagiere nutzen jährlich das Obus-Netz in Salzburg.
The ECSG team in Salzburg is currently working on a comprehensive transport concept with the involvement of all relevant partners (public transport services, police force, the City and Province of Salzburg, emergency response organisations). The goal is to make sure that the transport of the ECSG Salzburg 2019 participants to the respective sports facilities, accommodation and the Messezentrum event centre runs without a hitch.
At their last meeting, the members of the transport committee had the opportunity to gain insight into the complex world of Salzburg's public transport. Markus Perberschlager (trolleybus operations manager at Salzburg AG) explained the various technologies in the control centre that ensure the punctuality and smooth running of public transport in Salzburg. Each year, more than 40 million passengers use the trolleybus network in Salzburg.

Tous les partenaires concernés (transport en commun, police, ville et état de Salzbourg, organisations utilisatrices) travaillent actuellement au sein de l'équipe ECSG à Salzbourg à l'élaboration d'un concept de transport très complet. Il doit permettre d'assurer le transport sans encombre des participants à l'édition 2019 d'ECSG Salzbourg sur les différents sites sportifs, les lieux d'hébergement et le centre des congrès.
Lors de leur dernière réunion, les membres du Comité des transports a eu l'occasion d'avoir un aperçu de la complexité du monde des transports publics de Salzbourg. Markus Perberschlager, directeur des services de trolley chez Salzburg AG, a expliqué les différentes options techniques du centre de contrôle permettant de garantir un fonctionnement optimal et planifiable du transport public à Salzbourg. Plus de 40 millions de passagers utilisent chaque année le réseau de trolleys à Salzbourg.