Rif Sport Centre: Top sport venue for the ECSG Salzburg 2019
ULSZ Rif: Les meilleurs sites sportifs pour l'édition 2019 d'ECSG Salzbourg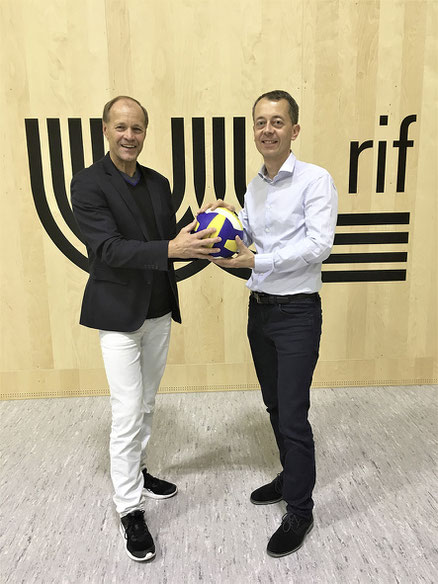 Während unserer ECSG Salzburg 2019 können wir auf insgesamt 33 Sportstätten zurückgreifen, auf denen die Wettbewerbe in 27 verschiedenen Sportarten über die Bühne gehen werden. Als Austragungsort für sechs Disziplinen - unter anderem Schwimmen, Beachvolleyball und Sportschießen - ist das ULSZ Rif der wichtigste "Hotspot" der ECSG Salzburg 2019. Das Universitäts- und Landessportzentrum Rif ist ein zertifiziertes Olympiazentrum, eine universitäre Ausbildungsstätte sowie Heeresleistungszentrum und somit essenziell für die Salzburger Spitzen- sowie Breitensportler. Seit der Errichtung im Jahre 1986 wird das ULSZ Rif ständig ausgebaut. Derzeit finden auf der Anlage Renovierungsarbeiten statt, die dem Idoor- und Outdoorbereich der Sportanlage frischen Wind verleihen. Im Bild der Direktor des Sportzentrums Rif Wolfgang Becker (links) mit dem ECSG Sportchef Reinhard Sitzler (rechts) in der renovierten Turnhalle.

Our ECSG Salzburg 2019 participants will compete in 27 different sports at a total of 33 sports facilities. The Rif Sport Centre will host six disciplines – including swimming, beach volleyball and shooting – making it the main hub of activity at the ECSG Salzburg 2019. As a certified Olympic centre, as well as a university and army training centre, the Rif University and Provincial Sport Centre is an indispensable venue for Salzburg's professional and amateur athletes. Since its construction in 1986, it has been extensively renovated and extended. The facilities are currently undergoing renovation work, which will give the indoor and outdoor areas a fresh, new look. The photo shows the director of the Rif Sport Centre, Wolfgang Becker (left), and the ECSG head of sports, Reinhard Sitzler (right), in the renovated sports hall.

Au cours de l'édition 2019 des ECSG, nous pourrons profiter de 33 sites sportifs, dans lesquels des compétitions dans 27 sports différents seront organisées. L'ULSZ Rif, accueillant six disciplines comme par exemple la natation, le beach-volley et le tir sportif, fera office de « centre névralgique » des ECSG de Salzbourg. Le centre de sport régional et universitaire (ULSZ) Rif est un centre olympique certifié, un centre de formation universitaire et un centre de performances, il tient donc une place très importante dans la vie des sportifs amateurs et haut niveau de Salzbourg. Depuis sa création en 1986, le centre sportif Rif a connu un développement continu. Des travaux de rénovation y sont actuellement en cours afin de remettre en valeur l'extérieur et l'intérieur de l'infrastructure sportive. Sur la photo le directeur du centre sportif Rif Wolfgang Becker (à gauche) avec le responsable sportifs d'ECSG Reinhard Sitzler (à droite) dans la salle de sports rénovée.