Elaborate concept for transport of participants
un concept de transport ingénieux pour les participants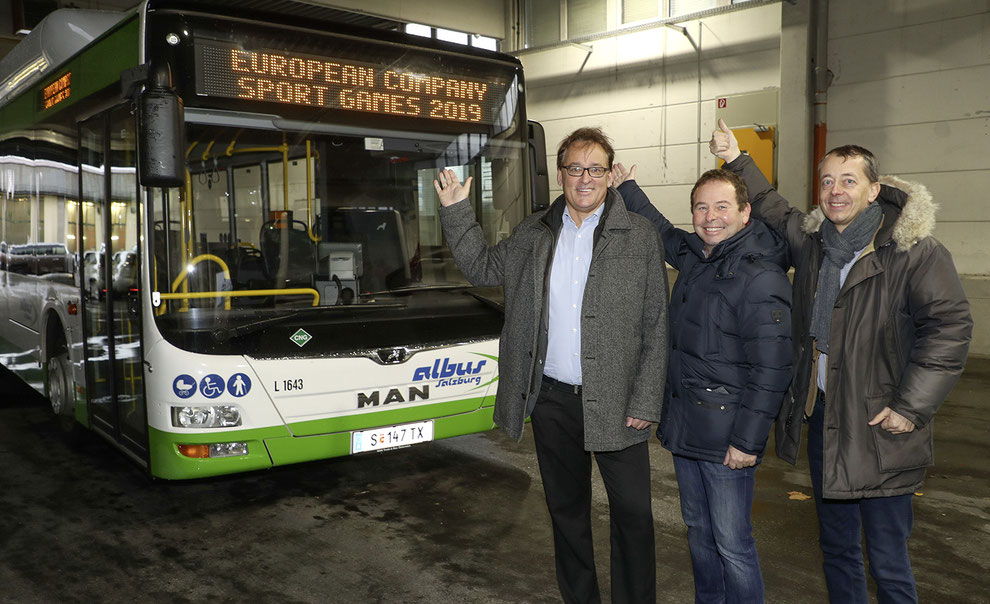 "Die Achillesferse einer jeden Großveranstaltung ist der Transport von Teilnehmern und Zuschauern. Kommt es bei der Anreise zum Sport zu Verzögerungen, hat dies auch bei den Wettbewerben Konsequenzen in Form von Verspätungen und Änderungen bei den Turnierplänen. Das wollen wir bestmöglich vermeiden und legen daher auf ein ausgeklügeltes Verkehrskonzept besonderes Augenmerk", so ECSG-Geschäftsführer Klaus Höftberger.
Dies ist nur mit erfahrenen Partnern zu bewältigen. Das von Experten erarbeitete Verkehrskonzept sieht - neben den öffentlichen Verkehrsmitteln – zusätzliche Linien und Shuttledienste vor. Mit der Durchführung dieser Zusatzleistungen wurde nun die Firma Albus beauftragt.
"Wir als Albus freuen uns über die Beauftragung und die Zusammenarbeit mit dem Organisationskomitee. In der professionellen Abwicklung von Großevents können wir auf eine jahrelange Erfahrung zurückgreifen", erklärt Geschäftsführer Hermann Häckl. "Neben unserem modernen umweltfreundlichen Fuhrpark werden wir das Know-how unserer Mitarbeiter einbringen und wünschen der Veranstaltung schon heute gutes Gelingen", hält GF Häckl abschließend fest.

"Getting participants and spectators to the venue is the Achilles' heel of any major sporting event. Any delays in transport have consequences for the competitions in the form of late starts and changes to the tournament schedules. We want to avoid this as best we can and are therefore attaching great importance to an elaborate transport concept," says ECSG managing director Klaus Höftberger.
This can only be achieved with the help of experienced partners. Experts developed the transport concept, which includes additional lines and shuttle services in addition to public transport, and the bus company Albus has now been commissioned with implementing these additional services.
"We at Albus are delighted to have been awarded this contract and look forward to working with the organising committee. We have many years' experience in dealing with large-scale events," says Albus general manager Hermann Häckl. "In addition to our modern, environmentally friendly fleet, we will also bring our employees' knowhow to bear, and would like to take this opportunity to wish the event all the best," Mr Häckl concludes.

«Le transport des participants et des spectateurs est souvent le point faible de chaque événement. En cas de retards lors des voyages pour des événements sportifs, cela impacte aussi sur les compétitions et entraîne des retards et des modifications au niveau du calendrier des tournois. Nous faisons tout notre possible pour éviter cela et misons donc sur un concept de transport sophistiqué», explique le directeur d'ECSG, Klaus Höftberger.
Et ce n'est possible qu'avec des partenaires expérimentés. Le concept de transport élaboré par les spécialistes prévoit, en plus des transports publics, d'autres lignes et services de navettes. La mise en œuvre de ces services supplémentaires a été confiée à Albus.
«Chez Albus, nous sommes ravis d'avoir à gérer cette nouvelle mission et de collaborer avec le comité d'organisation. Nous jouissons déjà d'une solide expérience dans l'organisation professionnelle d'événements de grande envergure », explique le directeur Hermann Häckl.« En plus de notre parc de véhicules moderne et respectueux de l'environnement, nous nous reposons sur le savoir-faire de nos employés et tablons déjà sur la réussite de l'événement », conclut le directeur Hermann Häckl.