ECSG Salzburg 2019: Europe celebrated a festival of sport!
ECSG Salzbourg 2019 : L'Europe a célébré une fête du sport !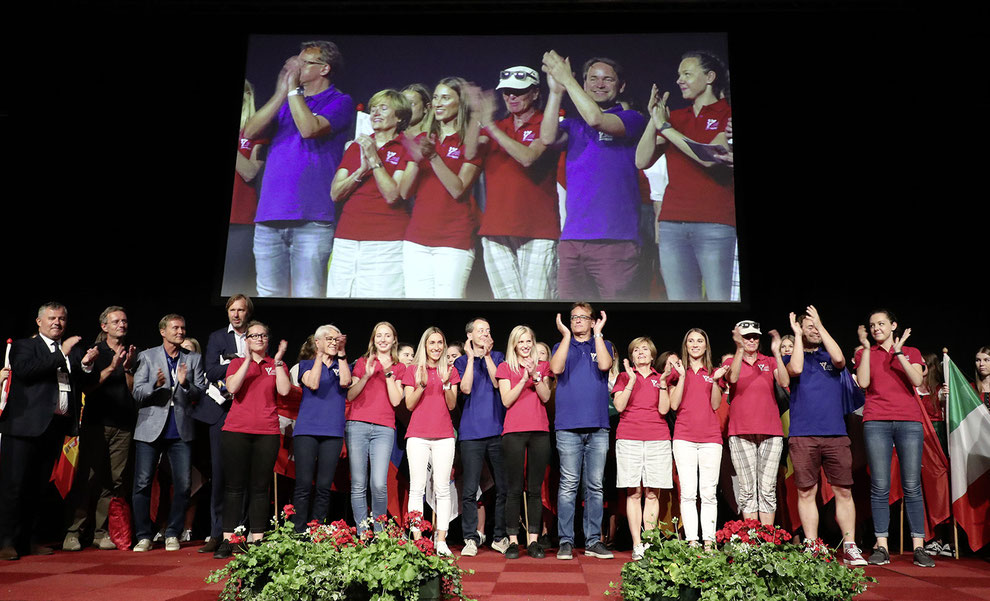 Salzburg war in den vergangenen Tagen das Zentrum des Betriebssports in Europa. Und es erlebte knapp eine Woche lang ein Fest des Sports und der Freundschaft.
Bei den 22. Europäischen Betriebssportspielen "ECSG Salzburg 2019" kämpften rund 7.000 Sportler in 27 Sportarten und in 326 Disziplinen um Medaillen. Insgesamt waren 35 Sportstätten in und rund um die Stadt Salzburg eingebunden. Beste Nation wurde Deutschland mit 393 Medaillen vor Frankreich mit 192 Medaillen. Sehr erfolgreich haben auch die Betriebssportler aus dem Gastgeberland Österreich mit 116 Medaillen und Rang drei in der Nationenwertung abgeschnitten. Die Nationenwertung im Detail finden Sie hier:
Große Freude über positive Rückmeldungen
"Wir haben sehr intensive Monate der Vorbereitung hinter uns. Die große Anzahl an Sportarten und Teilnehmern hat die Planung nicht einfacher gemacht. Das Ergebnis zeigt aber, dass sich die Mühen gelohnt haben," sagt OK-Chef Klaus Höftberger. In allen Veranstaltungsteilen – von den Sportbewerben, über den Transport bis hin zu den Zeremonien und zum Catering – habe alles klaglos funktioniert. "Der Dank und die vielen positiven Rückmeldungen von so vielen Teilnehmern freuen mich insbesondere für unser Team und alle Helfer auf den Sportstätten – sie haben großartige Arbeit geleistet", so Höftberger.
Fotos und Videos verfügbar
Im Rahmen der Spiele wurde eine Vielzahl an Fotos – etwa bei den meisten Sportbewerben sowie bei der Eröffnungs- und der Schlusszeremonie – gemacht. Diese Fotos stehen ab sofort zum Download bereit. Auch die Fotos der Goldmedaillengewinner aus dem "Champions Corner" sowie das After-Event-Movie und die Videos von den Zeremonien sind dort verfügbar.
Fonds für verunglückten Sportler eingerichtet
Getrübt wurde das Fest durch den tödlichen Unfall eines Teilnehmers aus Estland. "Unsere Betroffenheit ist nach wie vor groß," sagt ECSG-Obmann Manfred Pammer. Um die Hinterbliebenen des verunglückten Orientierungsläufers finanziell zu unterstützen, haben der Europäische Betriebssportverband (EFCS) und ECSG Salzburg 2019 einen Spendenfonds eingerichtet. "Wir werden selbst einen namhaften Betrag beisteuern und laden die große ECSG-Community herzlich ein, einen Betrag ihrer Möglichkeit beizusteuern", so Pammer. Zum Fonds geht es hier.

In the past few days, Salzburg was the European centre of company sport. For almost a week, it celebrated sport and friendship with the 22nd European Company Sport Games, better known as ECSG Salzburg 2019.
About 7,000 athletes competed for medals in 326 competitions in 27 disciplines. Overall, 35 sport facilities in and around Salzburg were involved. The most successful nation was Germany, winning 393 medals, with France coming in second with 192 medals. The athletes from the host country also did very well, bringing home 116 medals and earning Austria third place in the country ranking. Please click here for the country ranking.
Thanks for the positive feedback
"The many months of preparations were extremely intensive. The large number of disciplines and participants didn't make the planning any easier. But in the end, all the effort was worth it," says Klaus Höftberger, head of the organising committee. Everything ran smoothly – from the sport events themselves, to the transport, ceremonies and catering. "The thanks and the great positive feedback we have received from so many participants make me especially happy for our team and all our helpers at the sport facilities – they did an excellent job," says Höftberger.
Photos and video online
During the Games, we took a large number of photos – at most competitions and at the opening and closing ceremonies, for instance. These photos are now ready and can be downloaded. The photos of the gold medallists from the "Champions Corner", as well as the after-event movie and the videos of the ceremonies can also be found there.
Fund set up for deceased athlete
Sadly, the tragic death of an Estonian athlete cast a shadow over the festival. "We are still in shock," says ECSG chairman Manfred Pammer. The European Company Sport Federation (EFCS) and ECSG Salzburg 2019 have set up a donation fund to collect money for the family of the orienteer who died. "We ourselves will donate a substantial amount, and would like to invite the large ECSG community to make a contribution within their means," says Pammer. Click here to be directed to the fund.

Salzbourg fut le centre des sports d'entreprise en Europe ces derniers jours. Et nous avons assisté à une véritable célébration du sport et de l'amitié pendant près d'une semaine.
Lors des 22èmes Jeux européens des sports d'entreprise « ECSG Salzburg 2019 », près de 7 000 athlètes ont concouru pour des médailles dans 27 sports et 326 disciplines. Au total, 35 installations sportives ont été intégrées dans et aux alentours de la ville de Salzbourg. L'Allemagne fut la meilleure nation avec 393 médailles, suivie par la France avec 192 médailles. Les athlètes du pays hôte, l'Autriche, ont également obtenu de très bons résultats avec 116 médailles et la troisième place du classement national. Le classement détaillé par nation est disponible ici.
Nous sommes ravis des retours très positifs
« Nous avons vécu des mois de préparation très intenses derrière nous. Le grand nombre de sports et de participants n'a pas facilité la planification. Le résultat montre toutefois que les efforts ont porté leurs fruits », a déclaré Klaus Höftberger, responsable OK. A tous les niveaux de l'événement - des compétitions sportives aux transports, en passant par les cérémonies et la restauration - tout s'est parfaitement bien passé. « Les remerciements et les nombreux retours positifs d'un si grand nombre de participants font particulièrement plaisir à notre équipe et à tous les collaborateurs des installations sportives. Ils ont fait un excellent travail », a déclaré Höftberger.
Photos et vidéos disponibles
Dans le cadre des jeux, des photos très variées - par exemple, dans la plupart des compétitions sportives et lors de la cérémonie d'ouverture et de clôture - ont été prises. Ces photos sont maintenant disponibles au téléchargement. Vous y trouverez également les photos des vainqueurs de la médaille d'or du « Coin des champions » ainsi que le film after-event et les vidéos des cérémonies.
Fonds pour les athlètes blessés mis en place
Le festival a été assombri par l'accident mortel d'un participant estonien. « Notre consternation est toujours aussi grande », a déclaré Manfred Pammer, président d'ECSG. Afin de soutenir financièrement la famille endeuillée du coureur décédé, la Fédération européenne des sports d'entreprise et ECSG Salzburg 2019 ont créé un fonds de dons. « Nous apporterons une contribution substantielle nous-mêmes et inviterons cordialement toute la communauté ECSG à participer à cette cagnotte », a déclaré Pammer. Pour accéder au fonds, cliquez ici.
---