Last infos #2 – Before #ecsgsalzburg2019 takes off!
Dernières infos n°2 - avant de commencer avec # ecsgsalzburg2019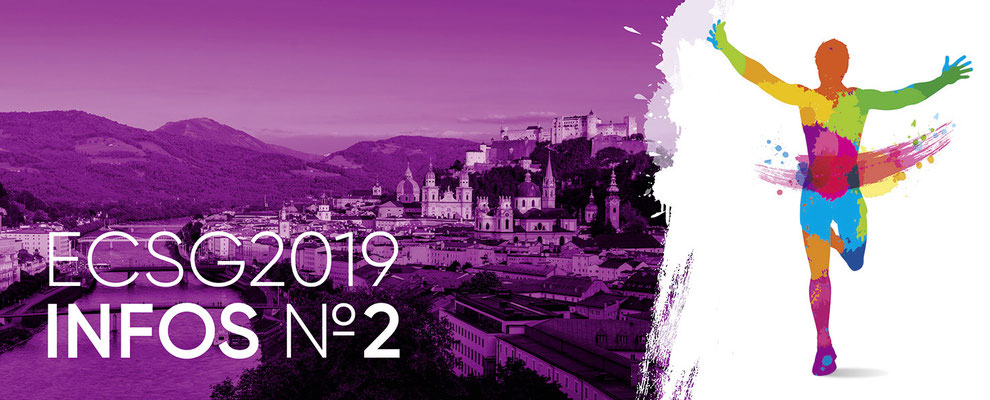 Es ist soweit: Die Spiele stehen an und wir freuen uns schon sehr auf den Start! Schon übermorgen wird Salzburg in ein riesiges Sportfestival verwandelt! Letzten Donnerstag haben wir Teil 1 der wichtigsten Infos ausgesendet - hier sind nun die Last Infos #2. Bitte sorgfältig durchlesen!
Abendessen und After-Sport-Parties
Am Anreisetag (Mittwoch, 26. Juni) ist der Gastronomiebereich - Messezentrum Salzburg, Halle 10 - für euch bereits ab 14 Uhr geöffnet. Von Donnerstag bis Samstag ist das Abendessen von 18 bis 22 Uhr im Messezentrum möglich. Die Abendunterhaltung beginnt um 20 Uhr. Zutritt zur Halle 10 ist nur mit dem Teilnehmerausweis erlaubt! Weitere Infos
ECSG-Zusatzlinien bis Rif (R) und Wals-Käferheim (W) & ECSG-Shuttles
Von 27. bis 29. Juni sind zwei ECSG-Linienverkehre eingerichtet. Die zentrale Umsteigestelle dafür liegt in der Schrannengasse (Höhe Dorotheum). Zusätzlich werden für die Radfahrer und Golfer Shuttledienste ab dem Messezentrum Salzburg angeboten. Es liegt in der Eigenverantwortung eines jeden Teilnehmers, sich über Busverbindungen und Abfahrtszeiten zu informieren!
LIVE DABEI – ECSG Livestream
Wir übertragen die Eröffnungsfeier LIVE auf unserer Facebook-Seite und auf unserer Website. Am Mittwoch, 26. Juni 2019, ab 20 Uhr können so auch Familie und Freunde, die in Salzburg nicht vor Ort dabei sein werden, die Darbietungen bewundern. Auch bei der Abschlusszeremonie am Samstag, 29. Juni 2019, kann ab 20 Uhr via Livestream mitgefiebert werden.
LOST & FOUND
Ihr habt etwas gefunden, was nicht euch gehört? Ihr sucht etwas, was ihr verloren habt? Bitte beim Info-Desk in das Messezentrum (Eingang Halle 10) abgeben beziehungsweise nachschauen, ob etwas abgegeben wurde.
ECSG EVENTHOTLINE
Fragen? Wir sind während des Events unter folgender Nummer erreichbar:
+43(0)662 8888 700. Gerne beantworten wir eure Fragen auch per Mail: info@ecsgsalzburg2019.at
Für Infos vor Ort (z.B. Programm, Orientierung) steht die ECSG Salzburg 2019 Crew am Info-Desk im Messezentrum, Eingang Halle 10, zur Verfügung.

At last, the Games are about to begin and we can hardly wait! The day after tomorrow Salzburg will be transformed into a tremendous sport festival! Last Thursday we sent out key information under the title of Last infos #1, and here come the Last infos #2. Please read thoroughly!
Dinner and After-Sport-Parties
On the day of arrival (Wednesday, 26 June), the catering area – Messezentrum Salzburg, Hall 10 – will already be open from 2pm onwards. From Thursday to Saturday, dinner will be available at the Messezentrum between 6pm and 10pm. The evening entertainment will begin at 8pm. You will only be allowed access to Hall 10 with your participant ID! More information
Additional ECSG bus lines to Rif (R) and Wals-Käferheim (W) & ECSG shuttles
From 27 to 29 June, two ECSG bus lines will be operating. The central changeover bus stop is at Schrannengasse (near the Dorotheum). In addition, there will be shuttle services for our golfers and cyclists departing from the Messezentrum. Each participant is responsible for finding out which buses to take and knowing the schedules!
FOLLOW THE ACTION LIVE – ECSG livestream
We will broadcast the opening celebration LIVE on our Facebook page and on our website. In this way, friends and family who can't be there in person can follow the show from 8pm on Wednesday, 26 June 2019. And the closing ceremony on Saturday, 29 June 2019 will also be shown via livestream from 8pm.
LOST & FOUND
Have you found something that doesn't belong to you? Are you looking for something you lost? Please hand it in, or inquire about your lost item, at the info point in the Messezentrum (entrance to Hall 10).
ECSG EVENT HOTLINE
Do you have any questions? During the Games, you can reach us at this number: +43(0)662 8888 700. We will also gladly answer your questions by email: info@ecsgsalzburg2019.at.
If you need immediate help (e.g. questions regarding the programme, orientation), you can also ask our ECSG crew at the info point in the Messezentrum, entrance to Hall 10.

Nous y sommes : Les matchs arrivent à grands pas et nous avons hâte que l'événement débute ! Après-demain, Salzbourg se transformera en un immense festival sportif ! Jeudi dernier, nous avons envoyé la première partie des informations les plus importantes. Voici le numéro 2. Merci de lire toutes ces informations de manière attentive !
Dîner et After-Sport-Parties
Le jour de votre arrivée (mercredi 26 juin), la zone de la gastronomie du Messezentrum de Salzbourg, Hall 10 est déjà ouverte dès 10 heures. Du jeudi au samedi, le dîner est servi de 18 à 22 heures dans l'enceinte du Messezentrum. Les divertissements commencent à 20h en soirée. L'accès au Hall 10 n'est possible qu'avec le badge de participant ! Autres infos
Lignes ECSG supplémentaires jusqu'à Rif (R) et Wals-Käferheim (W), et navettes ECSG
Deux services réguliers ECSG sont mis en place du 27 au 29 juin 2019. Le point de transfert central pour ces lignes se trouve dans la Schrannengasse (hauteur Dorotheum). Les cyclistes et les services de navettes pour les golfeurs sont également proposés à partir du Messezentrum de Salzbourg. Il est de la responsabilité de chaque participant de s'informer sur les correspondances en bus et les heures de départ ! Autres infos
SUIVRE LES MANIFESTATIONS EN LIVE – ECSG Livestream
Nous retransmettons la cérémonie d'ouverture en LIVE sur notre page Facebook et sur notre site internet. Le mercredi 26 juin 2019, à partir de 20 h, la famille et les amis qui ne peuvent pas venir à Salzbourg pour les jeux, peuvent profiter des différentes performances. La cérémonie de clôture prévue le samedi 29 juillet 2019 peut également être suivie en direct à partir de 20 heures.
LOST & FOUND (objets trouvés)
Vous avez trouvé quelque chose qui ne vous appartient pas ? Vous recherchez quelque chose que vous avez perdu ? Merci de vous rendre au point Info du Messezentrum (entrée hall 10) pour déposer l'objet trouvé ou vérifier s'ils n'ont pas retrouvé ce que vous recherchez.
ECSG EVENTHOTLINE
Vous avez des questions ? Pendant toute la durée de l'événement, nous sommes joignables au : +43(0)662 8888 700. N'hésitez pas à nous adresser vos questions par e-mail à : info@ecsgsalzburg2019.at
Pour plus d'informations sur place (ex. programme, orientation), notre équipe ECSG Salzbourg 2019 se tient à votre disposition au point Info du Messezentrum, au niveau de l'entrée, hall 10.
---