Last infos #1 – Before #ecsgsalzburg2019 takes off!
Dernières infos n°1 - avant de commencer avec #ecsgsalzburg2019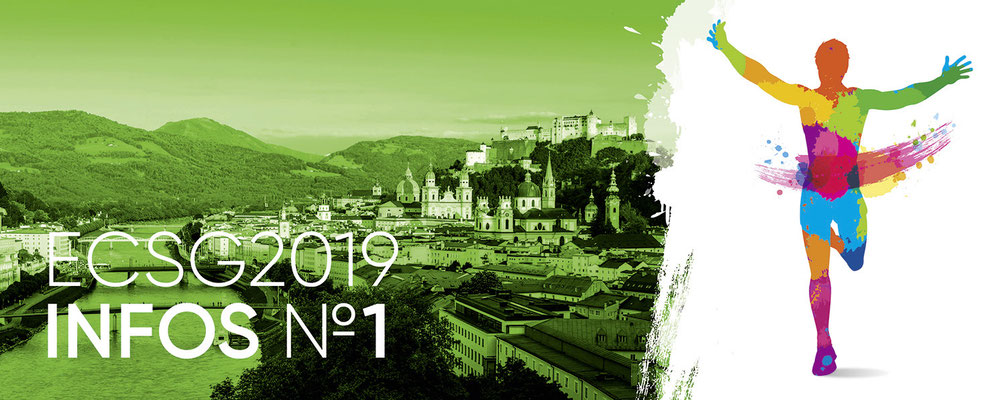 Um bei den Spielen den Überblick zu behalten, haben wir euch die wichtigsten Infos zum Event in insgesamt in zwei Teilen zusammengefasst. Somit wisst ihr auch, wann und wo die Post abgeht und könnt nichts verpassen! Wir starten mit den Last Infos #1 - Teil zwei folgt Anfang nächster Woche.
ECSG Salzburg 2019 thinks green: Bring your own bottle!
Bring your own bottle and refill it! Aus jedem Wasserhahn hier in Salzburg kommt hervorragendes Trinkwasser. Wir laden euch daher alle ein – anstelle von PET-Einwegflaschen - eigene Trinkflaschen nach Salzburg mitzubringen und diese immer wieder aufzufüllen! Mehr darüber
Akkreditierung – So läuft sie ab!
Die Akkreditierung und die Ausgabe der Startpakete finden am Mittwoch, 26. Juni, zwischen 9 und 22 Uhr, statt; diese können je Firma nur gesammelt an unseren Schaltern abgeholt werden. Mehr darüber
Eröffnungszeremonie – Treffpunkt 19 Uhr
Treffpunkt für die Eröffnungszeremonie am Mittwoch, den 26. Juni 2019, ist um 19 Uhr am Kapitelplatz in Zentrum der Altstadt. Alle Teilnehmer sammeln sich dort nationenweise und schreiten dann ab 20 Uhr – hinter ihrem Fahnenträger – auf den Residenzplatz ein. Dort wartet auf alle Besucher eine spektakuläre Eröffnungsshow.
Transport – Alle Teilnehmer können Öffis gratis nutzen
Für den Transport während der ECSG Salzburg 2019 wurde ein umfangreiches Paket geschnürt. Alle Infos zu den öffentlichen Verkehrsmitteln sowie zum zusätzlichen ECSG-Verkehrsangebot findet ihr hier
Turnierpläne, Wettkampfregeln & Web-App
Seit Montag sind die Turnierpläne und Startlisten online. Dafür wurde eine App entwickelt, auf der auch die Ergebnisse zu finden sein werden. Mehr darüber

We have put together the most important information you need for the Games in two parts. This ensures that you're up to date and won't miss anything! Let's get started with the Last infos #1! Part 2 will follow next week.
ECSG Salzburg 2019 thinks green: Bring your own bottle!
Bring your own bottle and refill it! You can get excellent drinking water from any tap in Salzburg. We therefore invite you to bring your own drinking bottles to Salzburg – instead of using disposable PET bottles – and to refill them with water from the taps!
Accreditation – this is how it works!
Accreditations and start packages will be issued between 9am and 10pm on Wednesday, 26 June; these can only be picked up collectively per company at our counters.
Opening gala – assembly at 7pm
Participants are asked to gather at 7pm at Kapitelplatz before the opening gala on Wednesday, 26 June 2019. All participants will be organised into groups according to nationality and will then parade into Residenzplatz behind their flag bearer at 8pm. A spectacular opening show will await all visitors there.
Transport – participants can use the city's public transport for free
A comprehensive transport package is available for all participants at the ECSG Salzburg 2019. Please click here to find all information on the public transport and the additional ECSG transport services.
Tournament plans, competition rules & online app
All tournament plans and start lists have been online since Monday. The specially developed app also provides access to all results. More detailed information

Afin de garder une trace des matchs, nous avons résumé les informations les plus importantes sur l'événement en deux parties. Cela vous permet également de savoir où et quand cela commence, et vous ne manquez rien ! Nous commençons par la 1ère édition des dernières informations - La deuxième partie suivra en début de semaine prochaine.
L'édition 2019 d'ECSG Salzbourg se met au vert : Apportez votre bouteille !
Apportez votre bouteille ! Ici, à Salzbourg, chaque robinet fournit une eau potable d'excellente qualité. Nous invitons donc tous les participants - au lieu d'utiliser des bouteilles en plastique jetables - d'apporter leurs propres gourdes à Salzbourg et de les remplir au robinet. Plus d'informations
Accréditation - Voilà comment ça fonctionne !
L'accréditation et la remise des kits de départ auront lieu le mercredi 26 juin de 9h à 22h ; ils ne peuvent être récupérés que par chaque entreprise à nos guichets. Plus d'informations
Cérémonie d'ouverture - Point de rendez-vous à 19 heures
Le point de rendez-vous pour la cérémonie d'ouverture est fixé au mercredi 26 juin 2019, à 19 heures, sur la Kapitelplatz, au centre de la vieille ville. Tous les participants se rassemblent à l'échelle nationale et marchent ensuite à partir de 20 heures - derrière leur porte-drapeau - sur la Residenzplatz. Un spectacle d'ouverture spectaculaire attend alors tous les visiteurs.
Transport - Tous les participants peuvent utiliser les transports en commun gratuitement
Pour le transport à l'occasion de l'édition 2019 d'ECSG Salzbourg, un package complet a été mis en place. Toutes les informations sur les transports publics ainsi que sur les lignes supplémentaires ECSG sont disponibles ici
Plannings des tournois, règles des compétitions et application Web
Depuis lundi, les plannings des tournois et les listes de départ sont en ligne. Vous trouverez sur l'application spécialement développée les résultats des différentes compétitions. Plus d'informations
---