Share your ECSG moments on Facebook and Instagram
Partagez vos événements ECSG sur Facebook et Instagram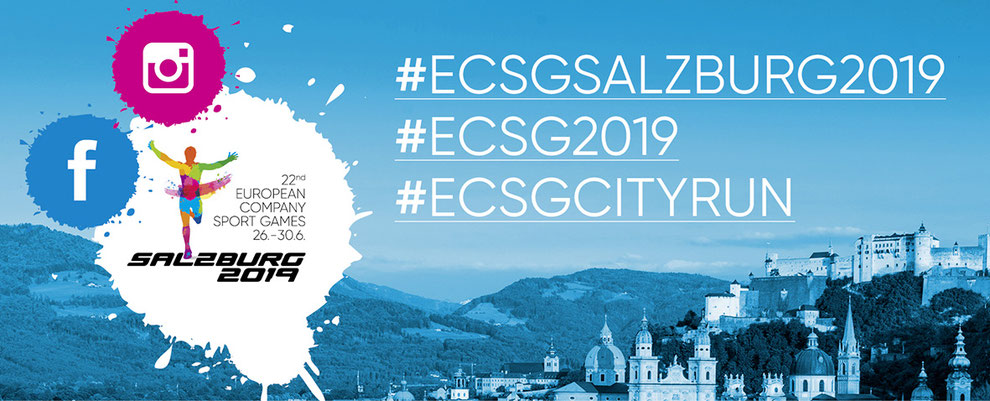 Auf unseren Social-Media-Accounts – Facebook & Instagram - präsentieren wir unsere Lieblingsinhalte aus Salzburg, veröffentlichen Spannendes rund um die ECSG Salzburg 2019 oder teilen auch mal etwas Unterhaltsames. In Storys bieten wir die Möglichkeit bei manchen Aktivitäten sogar live dabei zu sein. Gerade auch für die Familie und Freunde, die in Salzburg nicht vor Ort dabei sein können, aber trotzdem mitfiebern möchten, wird das sehr interessant sein.
#ecsgsalzburg2019 #ecsg2019 #ecsgcityrun
Unsere offiziellen Hashtags sind #ecsgsalzburg2019 und #ecsg2019 sowie - für den ECSG City-Run - zusätzlich #ecsgcityrun. Mit diesen Hashtags könnt ihr auch uns und alle Freunde der Spiele in Salzburg auf eure Reise mitnehmen! Postet daher eure Bilder, Videos und Storys immer mit diesen Hashtags: Egal ob im Vorfeld der Spiele, während des Events oder im Nachhinein der ECSG Salzburg 2019! Viel Spaß beim Posten, Liken & Teilen!

On our social media accounts – Facebook and Instagram – we present our favourite things about Salzburg, exciting news from the ECSG Salzburg 2019 and entertaining content. Sometimes we post stories that let users follow certain activities live. This is a great way for friends and family who aren't able to be there in person to still be a part of your ECSG experience.
#ecsgsalzburg2019 #ecsg2019 #ecsgcityrun
Our official hashtags are #ecsgsalzburg2019, #ecsg2019 and, for the ECSG City Run, #ecsgcityrun. By using these hashtags, you give us and all friends of the ECSG the opportunity to share in your Salzburg experience! So be sure to add these hashtags when you post your photos, videos and stories – whether before, during or after the ECSG Salzburg 2019! We hope you have lots of fun posting, liking and sharing!

Sur nos pages de réseaux sociaux - Facebook et Instagram - nous présentons notre contenu préféré de Salzbourg, nous publions des informations intéressantes sur ECSG Salzbourg 2019 ou partageons même des éléments divertissants. Dans les stories, nous permettons même de suivre certaines activités en direct. C'est surtout très intéressant pour la famille et les amis qui ne peuvent pas être présents à Salzbourg, mais souhaitent malgré tout encourager les participants.
#ecsgsalzburg2019 #ecsg2019 #ecsgcityrun
Nos hashtags officiels sont # ecsgsalzburg2019 et # ecsg2019 ainsi que #ecsgcityrun pour l'ECSG City-Run. Avec ces hashtags, vous pouvez également emmener avec vous tous les amis et supporters des jeux à Salzbourg ! N'oubliez pas de toujours poster vos photos, vidéos et histoires avec ces hashtags : Que ce soit à l'approche des jeux, pendant l'événement ou après les événements d'ECSG Salzburg 2019 ! Amusez-vous à publier, aimer et partager !