The City Run – a spectacular running event for our ECSG athletes
« City-Run » – une course spectaculaire pour nos participants aux ECSG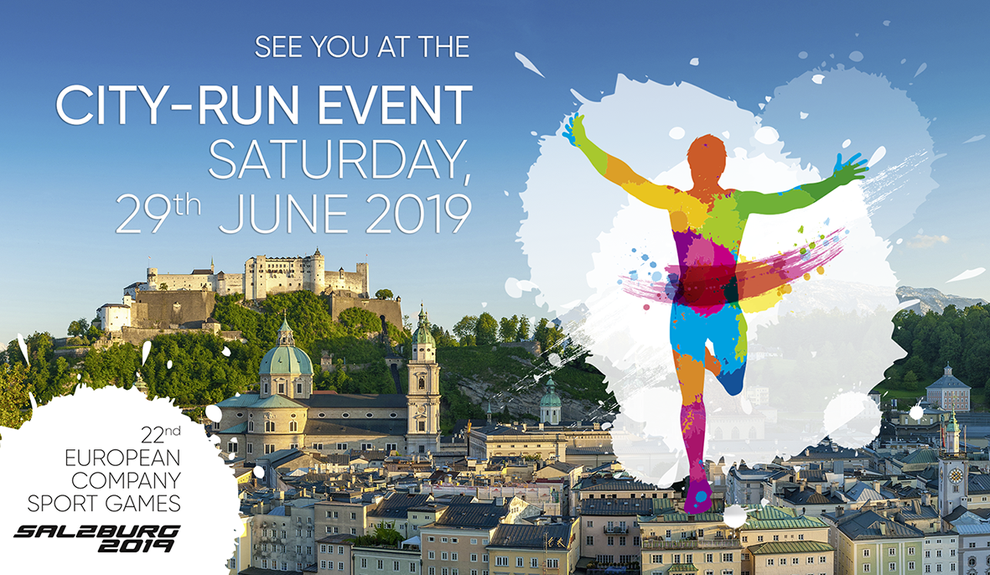 Zusätzlich zu unseren Hauptbewerben findet am Samstag, 29. Juni 2019, der City-Run statt - die Teilnahme daran ist für die ECSG-Teilnehmer kostenlos. Zur Auswahl stehen zwei Distanzen: die 5 km lange City-Run Runde führt durch die Salzburger Natur mit Blick auf die Festung Hohensalzburg. Bei der 10 km langen Laufstrecke geht es zusätzlich bergauf: die Runde über den Mönchsberg eröffnet spektakuläre Perspektiven auf die Salzburger Altstadt! Wer sich im Vorhinein noch nicht für die 5 km oder 10 km Variante festlegen will, kann diese Entscheidung auch während des Laufes spontan treffen. Start und Ziel des City-Run befinden sich auf dem Gelände unseres Partners Stiegl Brauerei.

In addition to our main tournaments, ECSG participants can also take part in the City Run on Saturday, 29 July 2019 – free of charge! The race offers two distances. The shorter of the two is the 5k City Run route, which takes runners through Salzburg's nature and provides a stunning view of Fortress Hohensalzburg. The 10k route has the added challenge of an uphill section as it takes runners over the Mönchsberg, with breathtaking views across Salzburg's historical centre. Whoever isn't sure whether to choose the 5k or 10k, can make a spontaneous decision during the race itself! The start and finish of the City Run will be at Stiegl Brauerei, our esteemed ECSG partner.

En plus des compétitions principales, la City-Run sera organisée le samedi 29 juin 2019 - la participation à cette course est gratuite pour les participants aux ESCG. Les coureurs ont le choix entre deux distances : la course de 5 kilomètres les emmènera dans la nature salzbourgeoise avec une jolie vue sur la forteresse d'Hohensalzbourg. Pendant la course de 10 kilomètres, les participants auront une côte en plus à monter - le tour du Mönschsberg leur offrira un panorama spectaculaire sur toute la vieille ville de Salzbourg ! Et pour les coureurs qui ne savent pas encore s'ils veulent parcourir 5 ou 10 kilomètres, ils pourront se décider spontanément pendant la course. Le point de départ et l'arrivée de la City-Run se trouvent dans l'enceinte de notre partenaire, la brasserie Stiegl.