ECSG bus partner also available for personal transport needs
La société de bus partenaire d'ECSG propose également des trajets individuels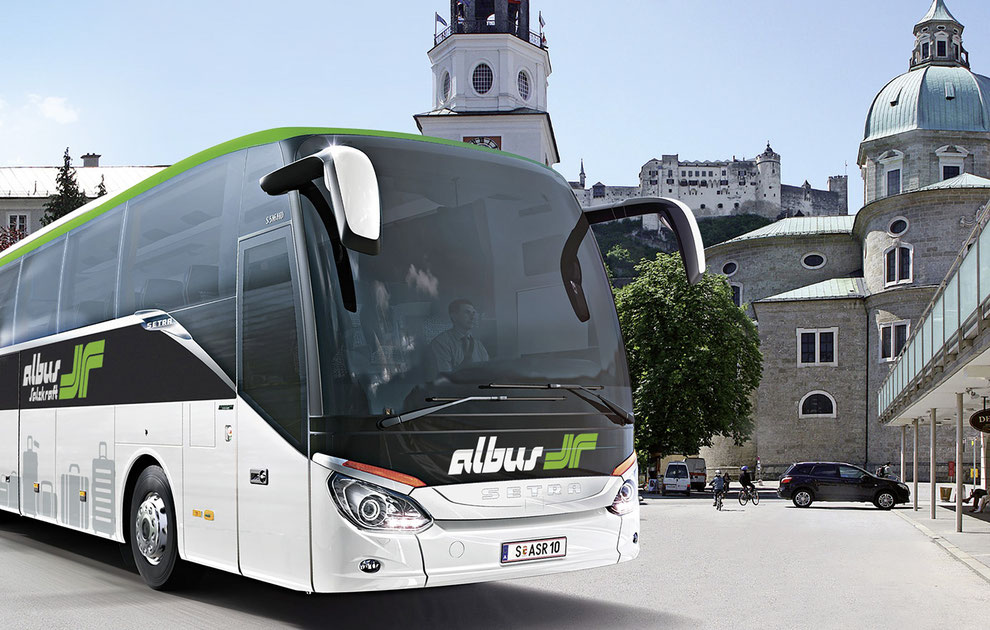 Sie haben für Transferfahrten (zB. Flughafen München), Ausflüge Ihrer Teammitglieder oder ähnliches während der Spiele zusätzlich individuellen Bedarf?
Gerne macht Ihnen unser Buspartner "Albus Salzburg" attraktive Angebote! Bitte wenden Sie sich an +43 662 424000-30 oder bus@albus.at.
Außerdem stehen jenen Teams, die das Hotel über unseren Partner gebucht haben, Gratis-Transfers zwischen den Hotels und Sportstätten zur Verfügung (öffentliches Netz und Speziallinien). Hinzukommt: Alle Teilnehmer an den ECSG Salzburg 2019 können das Busnetz der Stadt Salzburg kostenlos nutzen.

Do you also require transport for personal needs during the Games, such as airport transfers (e.g. Munich Airport), team outings, etc.?
Our bus partner "Albus Salzburg" will be happy to make you an attractive offer! Please contact Albus at +43 662 424000-30 or bus@albus.at.
In addition, teams that have booked their accommodation through our partner are entitled to free transfers between the hotels and the sports facilities (public network and special lines). In general, all athletes participating in the ECSG Salzburg 2019 can use the city's public bus network for free.

Vous avez besoin de transferts individuels (par exemple depuis/vers l'aéroport de Munich), des déplacements spécifiques pour des membres de votre équipe ou d'autres attentes similaires pendant les jeux?
Notre partenaire Albus Salzbourg se fera un plaisir de vous adresser un devis adapté et attractif! Merci de contacter par +43 662 424000-30 et par bus@albus.at.
Tous les participants de l'édition 2019 d'ECSG peuvent utiliser gratuitement les lignes de bus de la ville de Salzbourg. De plus, ceux qui ont réservé l'hôtel par l'intermédiaire de notre partenaire bénéficient de transferts gratuits entre les hôtels et les installations sportives (réseau public et lignes spéciales).