Bulletin 2 now available
Le bulletin 2 disponible dès maintenant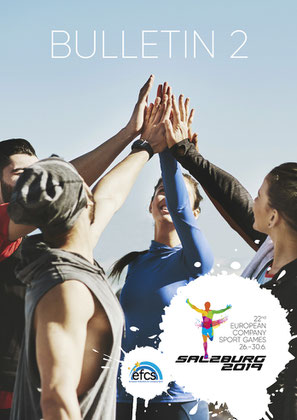 Seit heute ist das Bulletin 2 entweder online unter www.ecsgsalzburg2019.at (Bulletins) oder in gedruckter Form verfügbar. Sie erhalten dort alle Informationen zu Sportarten und Sportstätten, zu Hotels und Buchungsmöglichkeiten und zu den Teilnahmebedingungen. Außerdem finden Sie eine Fülle von Geschichten rund um Stadt und Land Salzburg. Gedruckte Exemplare des Bulletin 2 können Sie unter folgender Adresse ordern: info@ecsgsalzburg2019.at.

As of today, Bulletin 2 is available in print or online at www.ecsgsalzburg2019.at (Bulletins). There you will find everything you need to know about the various disciplines, sport venues, hotels and booking options, and the conditions of participation. In addition, it contains a wealth of stories about the City and Province of Salzburg. To order printed copies of Bulletin 2, please send an email to the following address: info@ecsgsalzburg2019.at.

Le Bulletin 2 est disponible dès aujourd'hui en version en ligne sur www.ecsgsalzburg2019.at (Bulletins) ou en version papier. Vous y trouverez toutes les informations sur les sports et les installations sportives, les hôtels, les options de réservation et les conditions de participation. Vous pourrez également y lire une multitude d'histoires sur la ville et la province de Salzbourg. Des copies imprimées des 2 Bulletin peuvent être commandés à l'adresse suivante : info@ecsgsalzburg2019.at.
---
ECSG 2019 Bulletin II
ECSG_2019_Bulletin_II_ok.pdf
Adobe Acrobat Document
15.9 MB