Event office now open
Un nouveau lieu pour la gestion des événements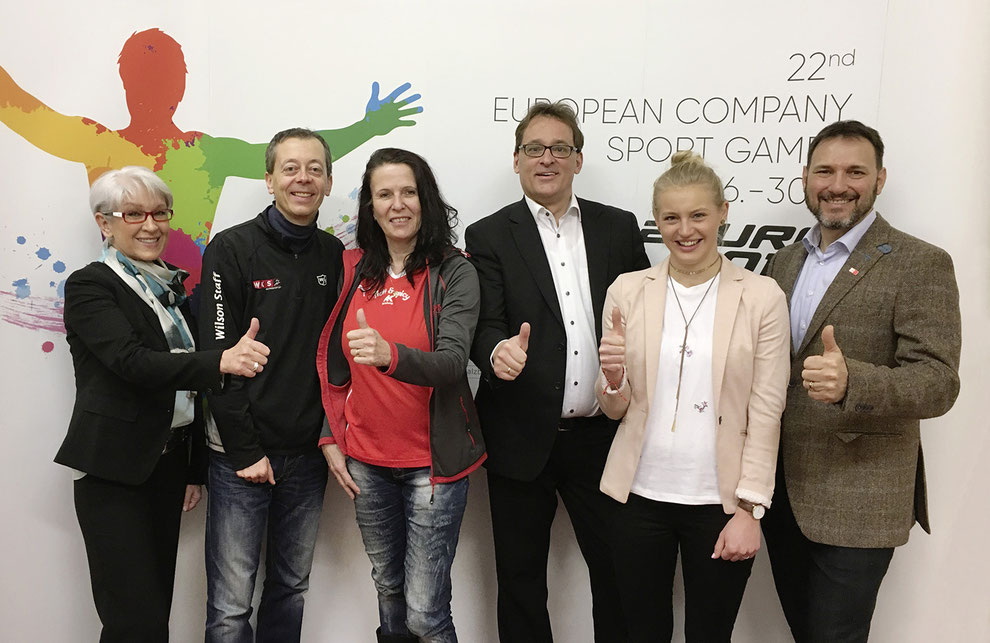 ECSG-Team bezieht neue Büroräumlichkeiten – Das Kernteam stellt sich vor
Am 1. März 2018 bezog das Organisationsteam der "ECSG Salzburg 2019" neue Büroräumlichkeiten im Andräviertel der Stadt Salzburg. Im selben Gebäude war schon das OK-Team für die Organisation der Spiele 2003 untergebracht. "Die Lage in der Faberstraße hat sich bereits 2003 als idealer Standort erwiesen – zentrale Lage, kurze Wege nicht nur zu den verschiedenen Sportstätten, sondern auch zu Behörden und unseren Partnern", so Klaus Höftberger, Geschäftsführer der "European Company Sport Games Salzburg 2019".
Neuigkeiten gibt es auch beim Team: Ebenfalls seit 1. März verstärkt uns Karin Kappacher, die sich auf die kommenden Aufgaben im Eventmanagement schon sehr freut. Aktuell umfasst das engere ECSG-Team fünf Personen, wobei bis Herbst 2018 schrittweise weitere Mitarbeiter aufgenommen werden.

ECSG team moves into new office – Meet the core team
On 1 March 2018, the organisation team of ECSG Salzburg 2019 moved into new office premises in the city's so-called Andräviertel. The same building already housed the OK team for the organisation of the 2003 Games. "The Faberstrasse location already served us well back in 2003 – centrally located, with short distances not only to the various sport facilities, but also to the authorities and to our partners," says Klaus Höftberger, managing director of the European Company Sport Games Salzburg 2019.
There have also been some changes in the team: On 1 March, our team gained a new member in Karin Kappacher, who is very much looking forward to her tasks in the area of event management. Five people currently make up the core team, and more will gradually be added until autumn 2018.

l'équipe ECSG s'installe dans de nouveaux locaux de bureau – l'équipe principale se présente
Le 1er mai 2018, l'équipe d'organisation d'ECSG Salzbourg 2019 intègre les nouveaux bureaux du quartier Andrä à Salzbourg. L'équipe OK chargée de l'Organisation des jeux en 2003 se trouvait déjà dans les mêmes locaux. « L'emplacement dans la rue Faber en 2003 s'est déjà avéré être un endroit idéal - situation géographique centrale, faible distance pour rejoindre les différents sites sportifs, les autorités et nos partenaires », explique Klaus Höftberger, directeur général de la European Company Sport Games Salzbourg 2019.
Les nouveautés concernent aussi l'équipe : Depuis le 1er mars, Karin Kappacher a rejoint notre équipe et sera chargée de nous assister dans la gestion et l'organisation des futurs événements. L'équipe ECSG comprend actuellement cinq personnes et d'autres collaborateurs devraient pouvoir l'intégrer jusqu'à l'automne 2018.