2,000 participants registered
Déjà 2 000 inscrits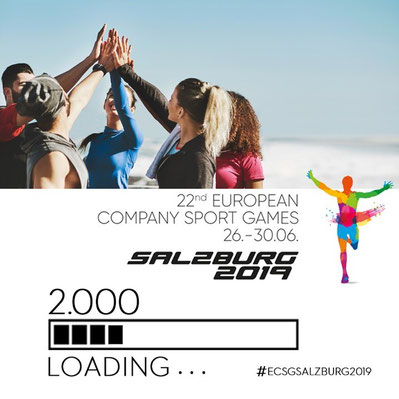 Seit 30. Juli sind wir mit unserem Anmeldetool online. In den vergangenen zwei Monaten haben sich bereits 2000 Teilnehmer für die ECSG 2019 angemeldet! Erwartungsgemäß war der Andrang für Golf sehr groß, wo wir bereits mehr als 400 Anmeldungen verzeichnen konnten. Aber auch die Bewerbe Bowling, Badminton und Fußball sind bereits sehr gut gebucht. Ein Großteil der bisher gemeldeten Teilnehmer kommt aus Deutschland, gefolgt von Dänemark und Frankreich. Weitermachen - wir freuen uns auf das nächste runde Jubiläum!

On 30 July our online registration tool went live, and 2,000 participants have already registered for the ECSG 2019 in the space of just two months! As expected, golf has proved to be a very popular choice, with more than 400 registrations to date. But bowling, badminton and football are also in high demand. Most of the participants who have registered up to now are from Germany, followed by Denmark and France. Keep those registrations coming – we look forward to reaching the next round number!

Notre outil d'inscription en ligne fonctionne depuis le 30 juillet. Au cours des deux derniers mois, 2 000 participants se sont déjà inscrits pour l'édition 2019 du championnat européen des sports d'entreprise ! Conformément aux attentes, l'affluence pour le golf fut très importante et nous avons déjà pu enregistrer 400 inscriptions. Les inscriptions pour le bowling, le badminton et le football sont aussi déjà très prometteuses. Un grande partie des participants inscrits viennent d'Allemagne, puis du Danemark et de France. Il faut continuer sur cette lancée - nous nous réjouissons déjà à l'avance de ce prochain anniversaire !